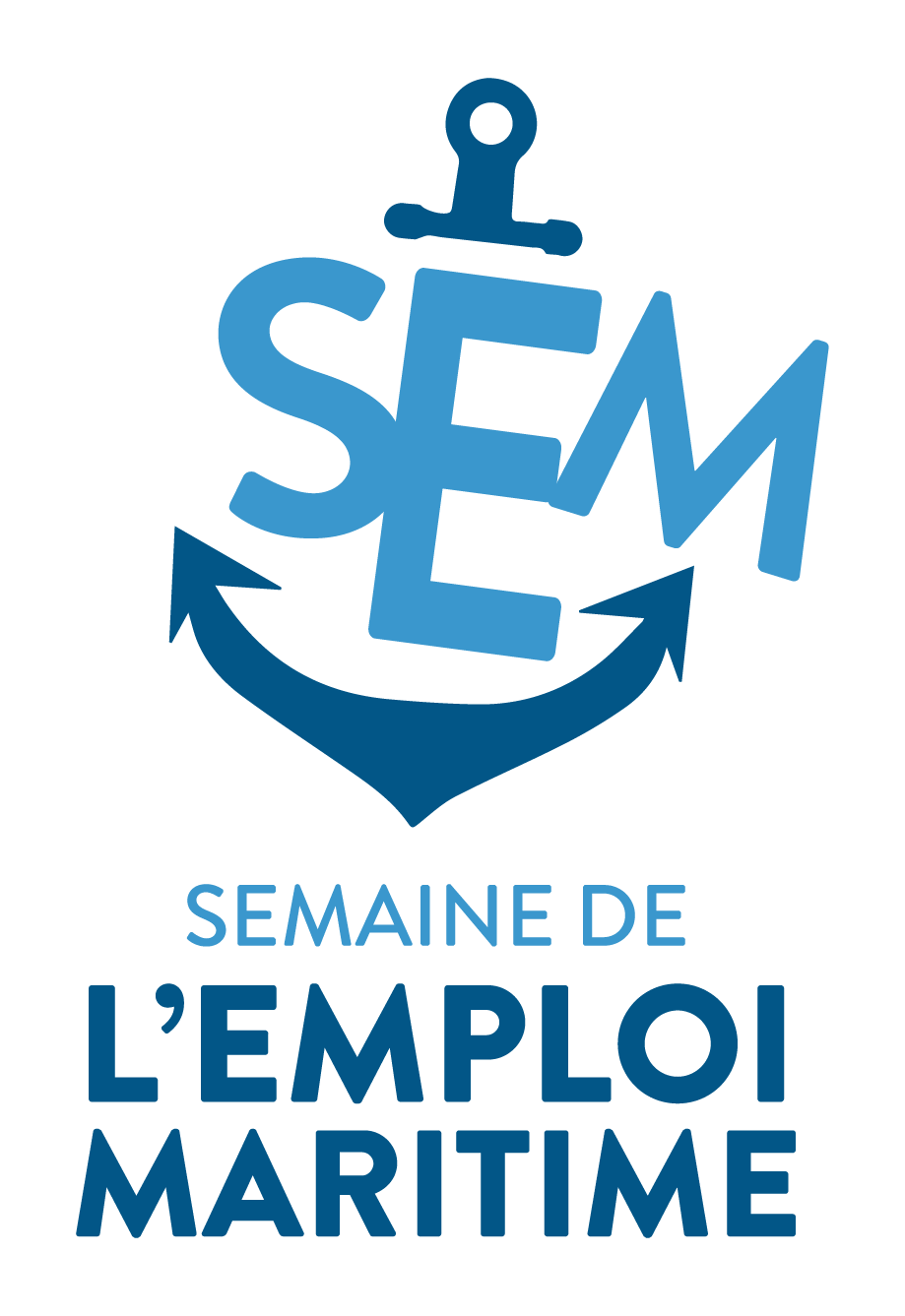 Maritime Employment Week will run November 9-14, 2020.
To mark it, we will be asking a question a day, over 5 days, to test your knowledge about maritime occupations and the industry in general! Stay tuned because the week will end with a terrific contest!
Questions will be asked every day on the Facebook and LinkedIn pages of the Sectorial Committee as well as on the St. Lawrence economic development council's Twitter page.
The answers to those questions will be posted here every day, starting November 9, 2020, with several relevant information about the maritime industry and its careers.
Happy Maritime Employment Week!
Question 1 - November 9, 2020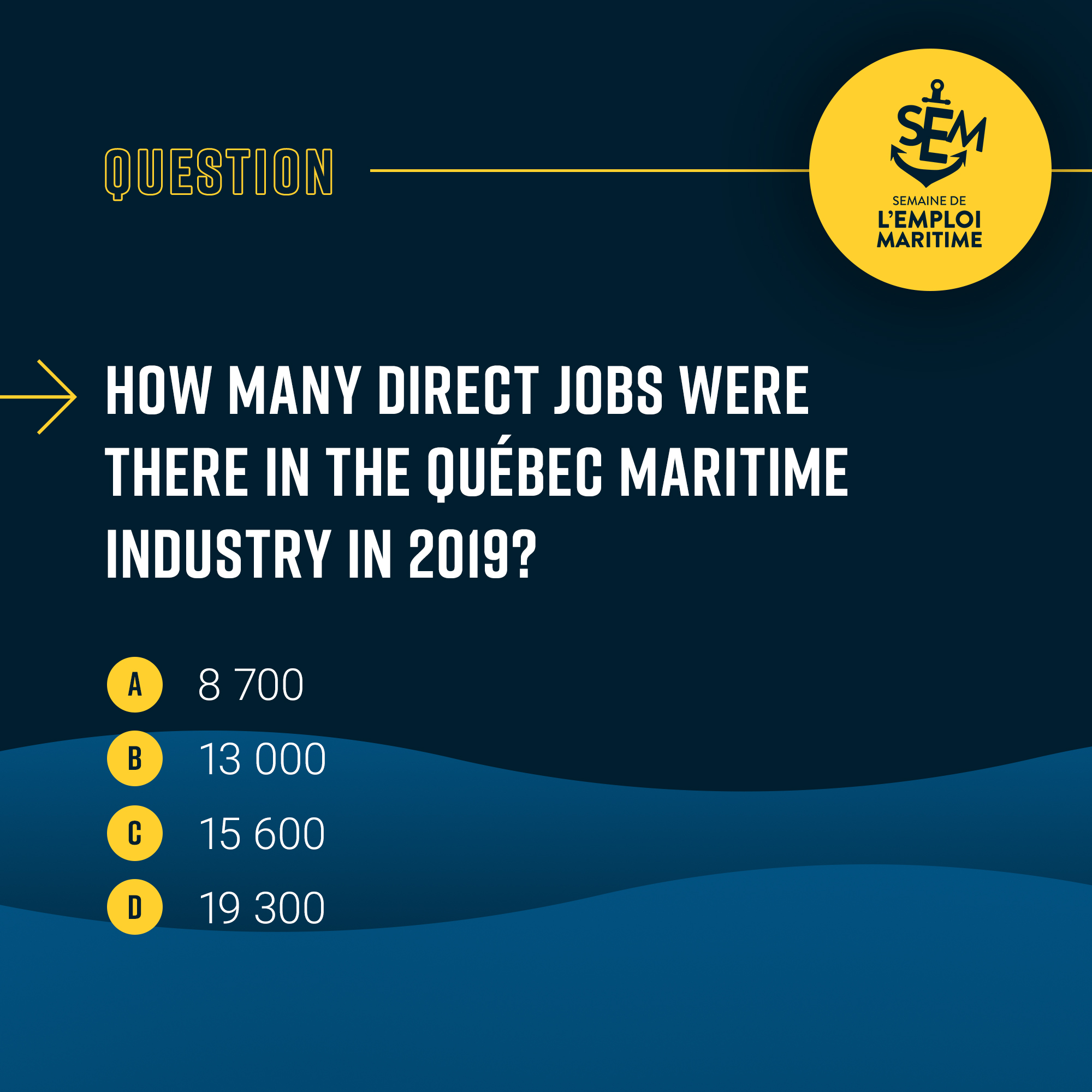 Answer: C) 15 600 jobs
Of this total, one-third are so-called "navigating" jobs, which include all occupations on board ships. Learn about these occupations: bit.ly/3mUyBP3
Two-thirds of these jobs are so-called "non-navigating" jobs, which include all land-based occupations. Whether they are in maritime company offices or ports, these jobs are extremely varied: bit.ly/2Jqw1Sc
To learn about different maritime industry workers, read their portraits: bit.ly/389j4Xw
Pssst! More than 4 000 hires are foreseen for the next three years: 1 000 non-navigating jobs and 3 000 navigating jobs. The maritime industry recruits workers from all walks of life with varied career paths. Consult job offers from various Québec maritime companies here: bit.ly/2Gs7paI
Question 2 - November 10, 2020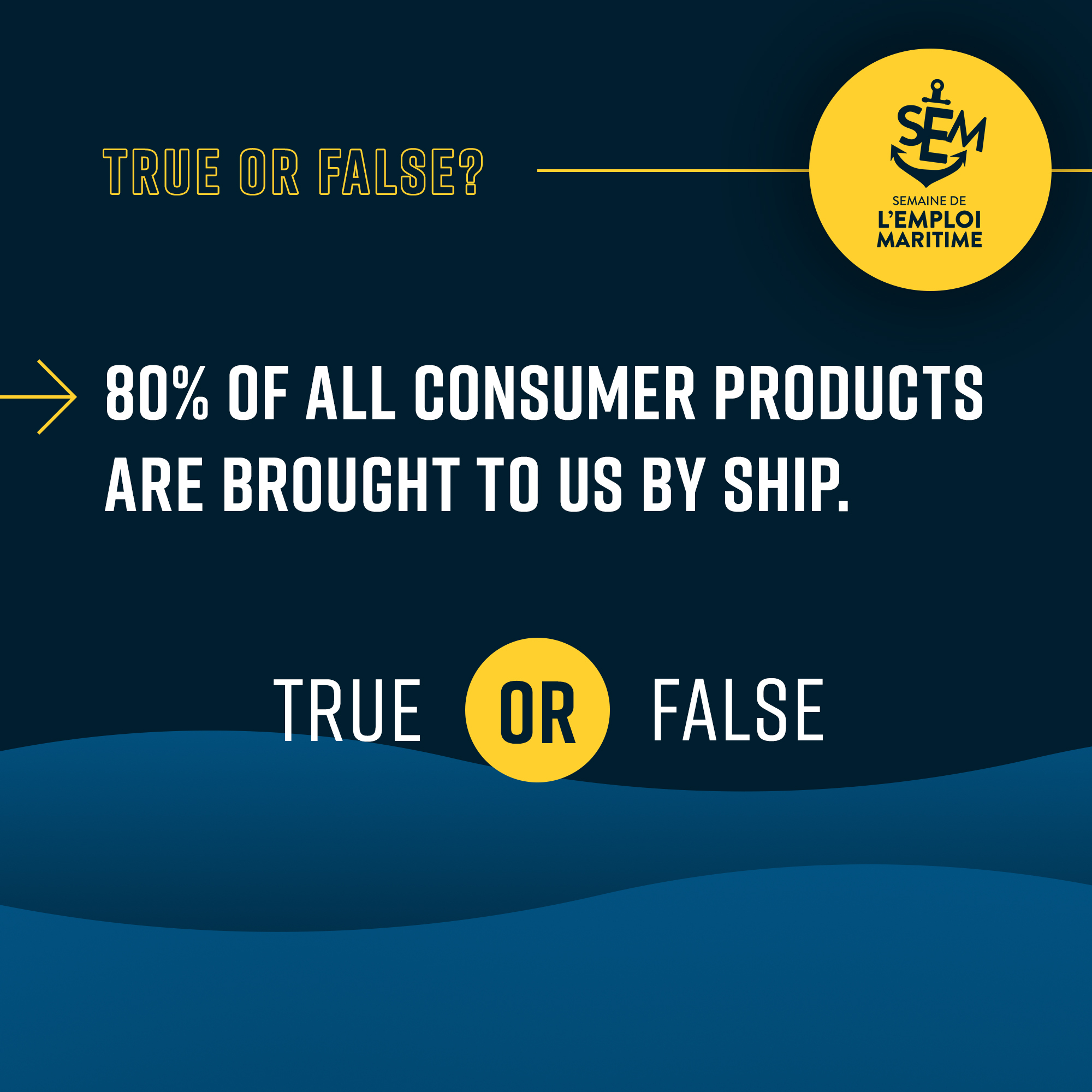 Answer: True
The maritime industry is essential for keeping the supply chain intact. Our foodstuffs, furniture and clothing are part of our everyday lives thanks to the St. Lawrence Seaway.
For more information on this subject, see: bit.ly/3elcw9b
Interested in an educational game where you create your own shipping company? Ready to meet challenges like managing your crew, fuel and cargo storage? To take a look at the game Brought to You by Ship, click here: bit.ly/34Qbj6x
Question 3 - November 11, 2020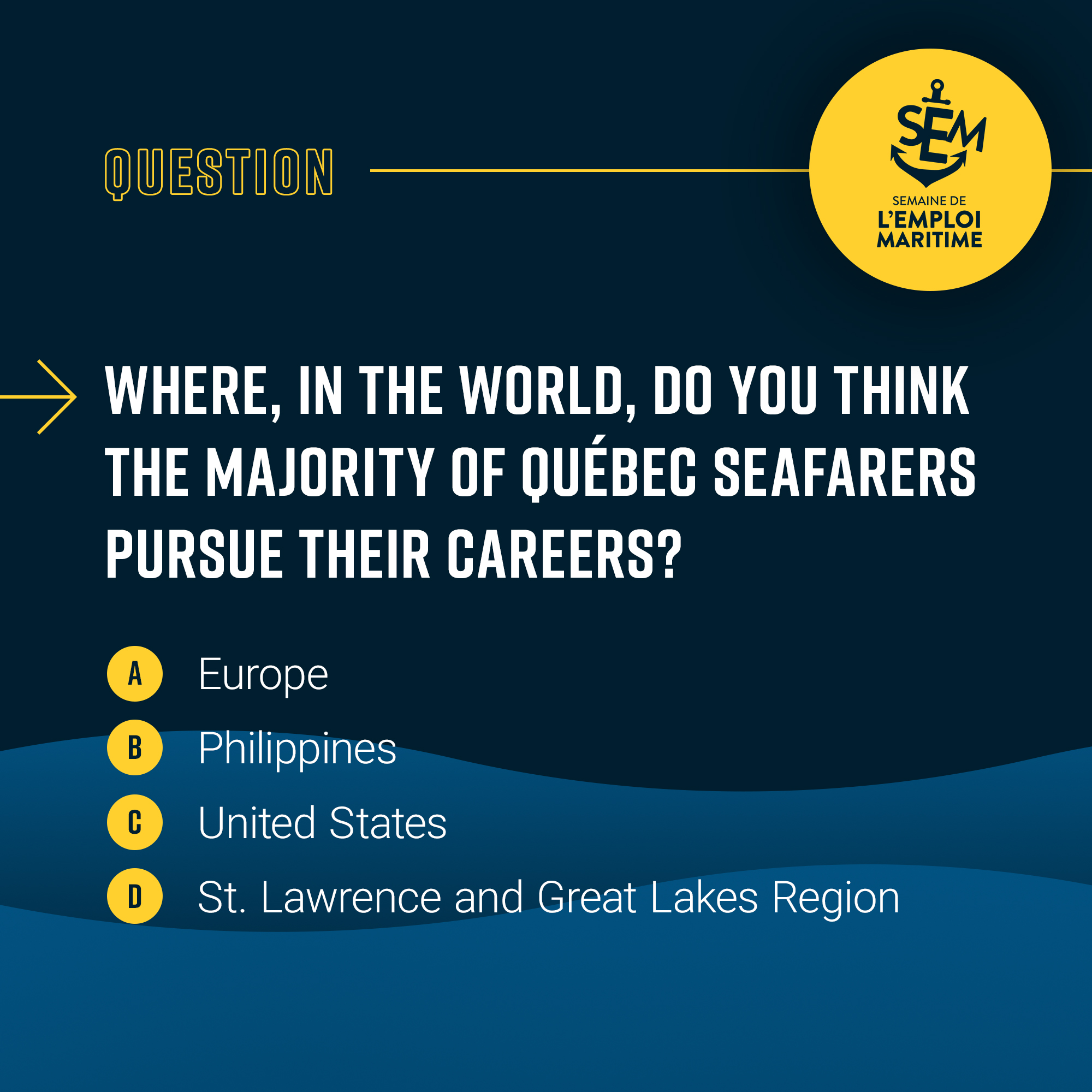 Answer: D) St. Lawrence and Great Lakes Region
A great many Québec seafarers can work in the many jobs offered in the maritime industry, either on board ships or in land-based operations, ports and offices.
One of the industry's most interesting features is its great flexibility. Workers can move from a seagoing job to a land-based job (or vice-versa) during their careers. This allows them to grow in keeping with their needs and to create a career that reflects who they are.
Maritime jobs with Québec employers offer many other features that make them interesting, including lucrative salaries and attractive employment conditions.
Learn more about Québec maritime companies by consulting the Répertoire des employeurs maritimes (Maritime employers directory): bit.ly/3enReI7
Question 4 - November 12, 2020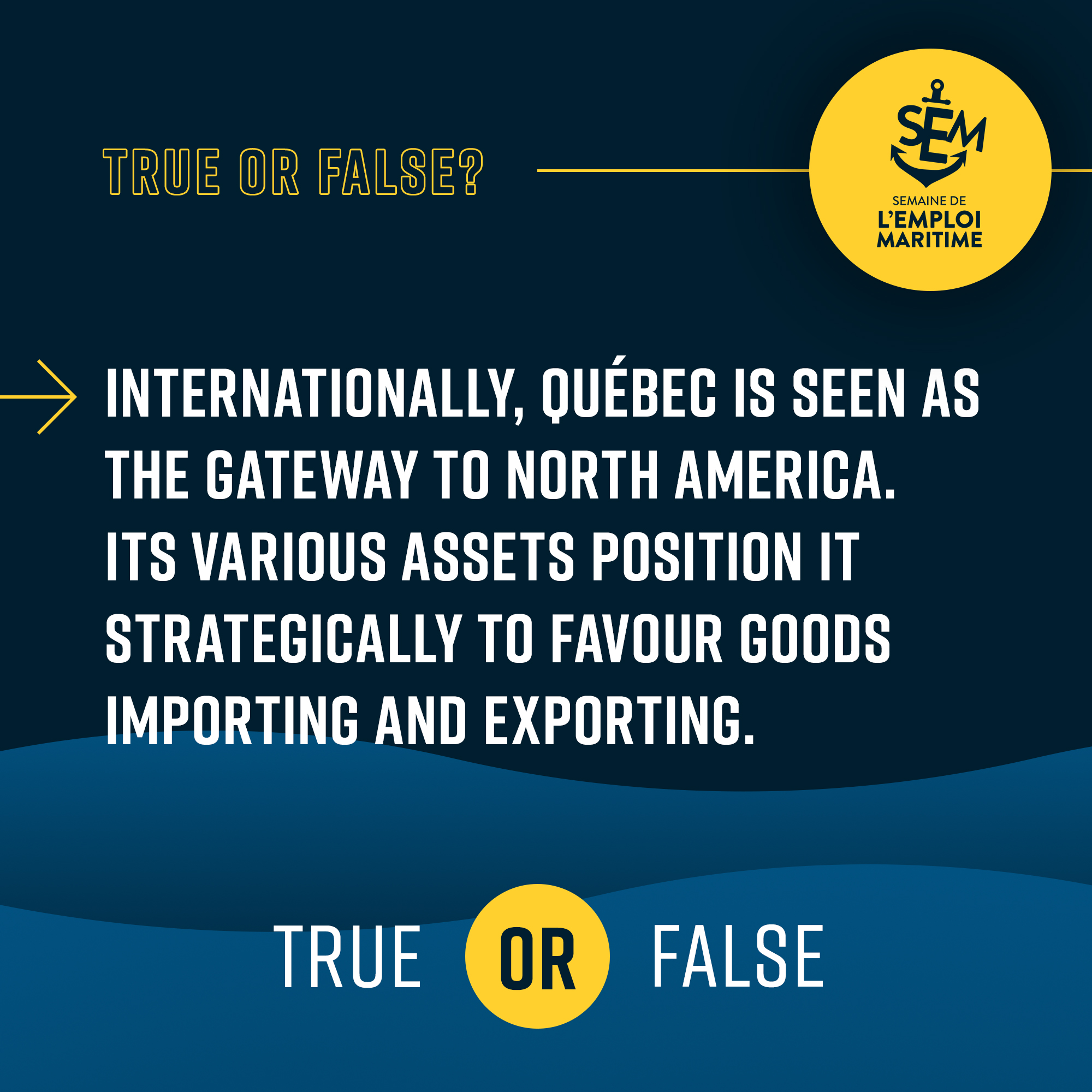 Answer: True
Québec offers a commercial port network of 20 ports located throughout its territory, a road network connected directly to the Ontario and US highway systems, 5 border crossing stations through which the majority of truck traffic to the United States transits and 3 international airports dedicated exclusively to freight.
Shipping on the St. Lawrence is, therefore, vital for trade between Canada and the rest of the world and plays a crucial role in the economic development of Québec and Canada.
For more information, see the "Economy" tab on the Maritime Information Bureau (MIB) site: bit.ly/328bKrb
Question 5 - November 13, 2020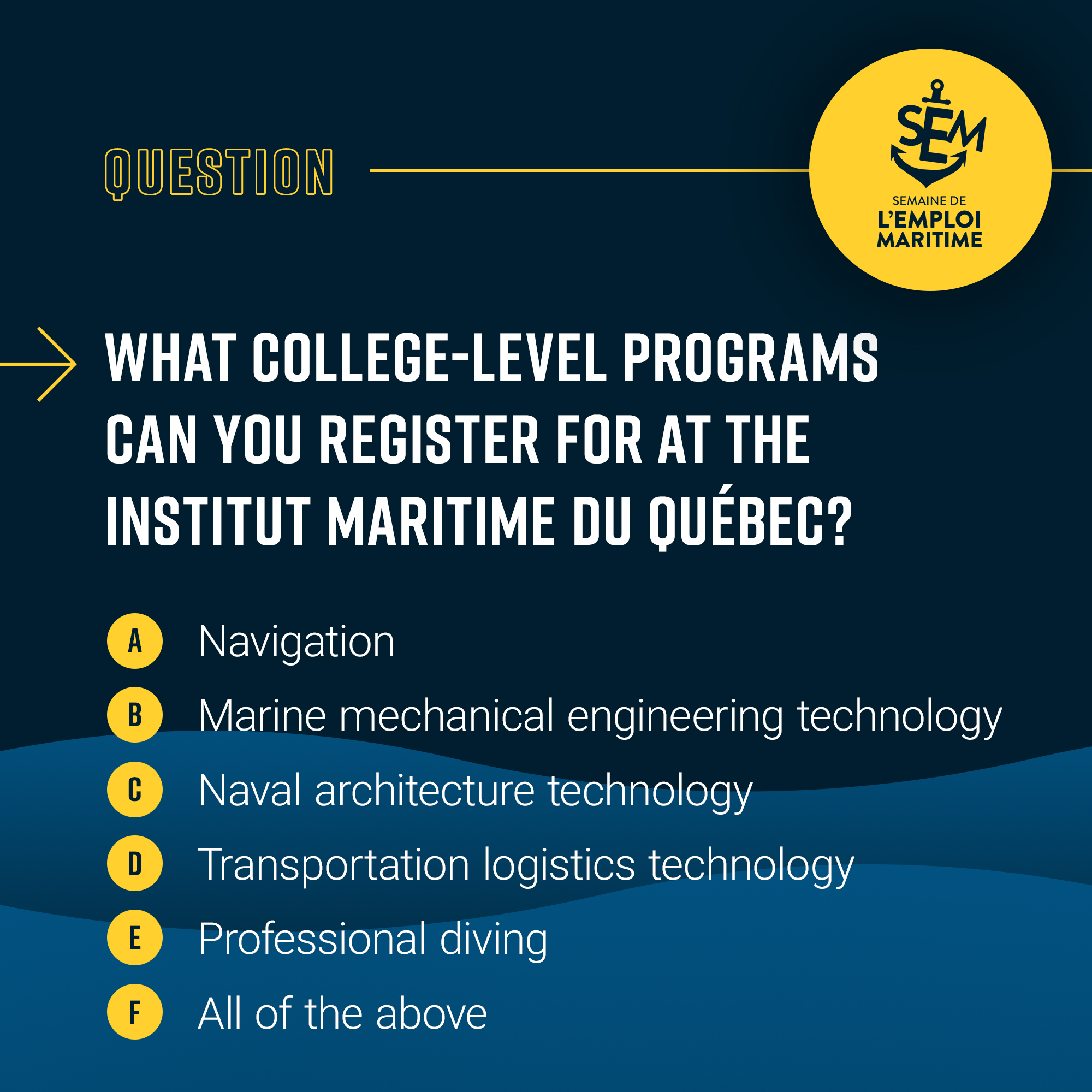 Answer: F) All of the above
Have you heard of the Institut maritime du Québec?
It is the only French-language maritime training centre in Canada, located in Rimouski. Technical college-level training is offered here to train skilled future workers ready to meet the Québec maritime industry's challenges!
Various other types of training are also offered at the IMQ's Centre de formation aux mesures d'urgence (emergency measures training centre - CFMU), located in Lévis.
In addition to the above-mentioned institutions, which are public, there are private training centres where training is offered by industry employers.
Are you preparing to make a career choice and looking for a great place to pursue your studies? Are you interested in a career change and want to learn more about the training offered in the industry?
See the following:
CONTEST - November 14-20, 2020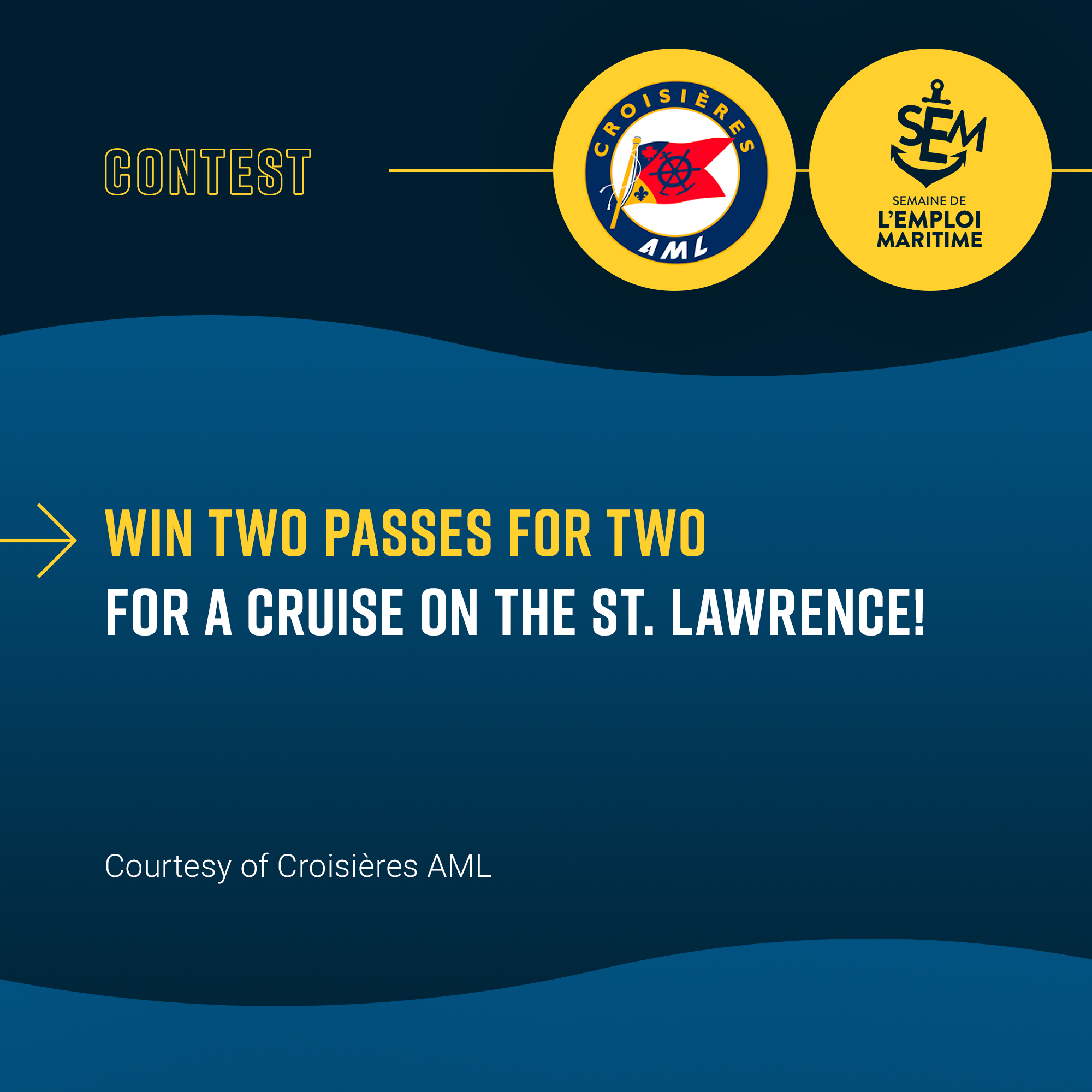 What better way to finish Maritime Employment Week than with a contest!
PRIZE: Two passes for two for a whale watching cruise or guided sightseeing cruise (Québec City or Montréal), valid for the 2021 season, courtesy of Croisières AML!
TO PARTICIPATE: Go to bit.ly/35VF45g and answer the short questionnaire on the maritime industry and its occupations.
You have until 12:00 noon on November 20, 2020 to participate. Stay tuned! The winner will be announced our social medias on November 20, 2020 in the afternoon!
Règlements (French only)
* WINNER *
Congratulations to Mr Mathieu Heroux! Thank you all for your participation.